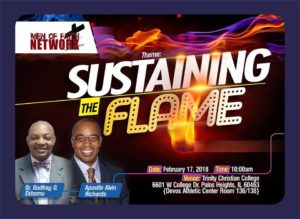 Sustaining The Flame
"But just as you excel in everything—in faith, in speech, in knowledge, in complete earnestness and in your love for us—see that you also excel in this grace of giving." 2 Corinthians 8:7
We invite you to join our monthly meeting, the theme is Sustaining the Flame.
We have been called by God the Father to take part in the mission of advancing the Kingdom of Jesus Christ worldwide by providing equipping in cooperating with the Holy Spirit.
According to Jesus, who is calling us to join Him in this work, being filled with the Holy Spirit is the essential condition for us to effectively take part as friends and co-workers with God in building the Kingdom of God.